MEMBERSHIP BENEFITS
Reduced Entry Fees for Open Shows and Gymkhanas
Summer Picnic
Year-End Awards
$1,000 Kathy Croak & Henry Tuthill Memorial Scholarship awarded to a graduating senior who is going to college, vo-tech school, joining the US Military or other public service.
Please contact Trish Hetman   (845) 538-0357, for details.
---
Membership Year-End Championship
Cumulative point system for year-end award point value: 6, 5, 4, 3, 2, 1.
Riders must participate in at least (2) two shows in each division for points to count towards year-end championships and must fulfill their membership requirements by the October meeting.
Rider must enter more than half of the classes in a division to be eligible for Day-of Champion/Reserve Champion and/or year-end Champion/Reserve Champion awards. Year-end divisions with less than four entries will be pro-rated. **Open show exhibitors must submit ad/sponsorship info by 7/7/2019 and Gymkhana exhibitors by 9/20/2019, otherwise fee will be doubled.**
High-Point Trainer Open Show
To be awarded to the trainer whose riders accumulate the most points during the 2019 G&M Riding Club open shows.
High-Point Trainer Gymkhana
To be awarded to the trainer whose riders accumulate the most points during the 2019 G&M Riding Club Gymkhanas.
---
Lucille Cox Memorial Junior Excellence Award
In 2009, G&M established this award in the memory of Lucille Cox, a long standing member who dedicated many volunteer hours of service to the Club for over 20 years.  The award is presented to a Junior member who displays outstanding community spirit, merit and volunteerism.
---
Founder's Award
In 2004, G&M established this award to recognize people who had
made a contribution to the equine community in the Hudson Valley.
2004- Mrs. Ruth Ottaway
The Ottaway family donated their Blackburne Farm property on route 416
(across from Hill Hold) which is being developed into the Orange County Horse and Farm Center.
2005 – Mr. Graham Skea
Orange County Parks and Recreation Commissioner, now retired.
2007 – Mrs. Barbara Harris
2009 – Mrs. Lucille Cox & Ms. Virginia Martin
2010 – Paul Congelosi
2012 – Chip Watson
2013 – Kathy Casper
2014 – Kathy Croak
---
---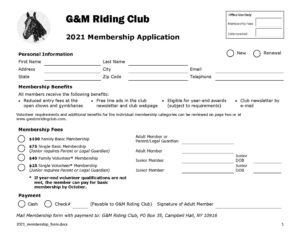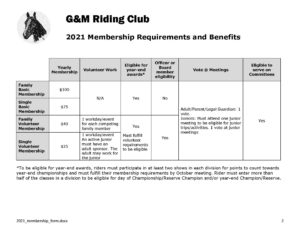 ---
Using Adobe Reader allows you to fill in the forms online.
---
For more information, please contact Renee Turcott
(845) 248-5518.